Rebuilding the Wineship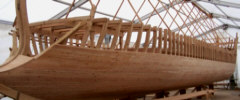 Progress Spring 2007
During 2006, as a tourism intitiative, the citizens of Neumagen-Dhron set themselves the task of building an authentic replica of the Roman Wineship, to be be used principally to promote the village at festivals and events.
River Cruise Roman Style
The 19 metre long and 4 metre wide vessel can carry up to 40 passengers, and after its completion and launch in September 2007 it became possible for tour operators and groups to charter the Wineship for trips along the Mosel.
The launch ... Stella Noviomagi
Ad referendum
Nuntium
● 14.9.2007: Naming and Launching Ceremony
● 15.-28.9.2007: Ships trials
● 29.9.2007: Hand over over and maiden voyage

The ship sailed to Neumagen via the locks at Detzem, whence it was accompanied by a celebratory flotilla of local vessels. Ship-owners in and around the Mosel Valley were invited to take part in the historic voyage. The occasion of the ship's reception in Neumagen-Dhron was celebrated on the dockside with a "Roman Wine Festival" which has been repeated successfully in the following years.

● 30.9.2007: Official opening of the planned Information Pavillion behind the Römerkastell Civic Hall.
For more information contact
Tourist Info, Neumagen-Dhron


♦ ♦ ♦

In his epic poem "Mosella", the Roman poet

Decimius Magnus Ausonius

described vividly the river landscape and the mighty Mosel river.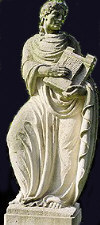 Monument to be found in the Ausonius garden
behind the Chapel of St Peter.